We've created this support guide to assist players who may be experiencing issues with the PC version of theHunter: Call of the Wild not loading. If your issue is that the game freezes, won't load, or crashes at startup, then this is the support guide for you. We've done our best to list the known issues that players may experience.
If you found additional issues preventing you from playing the game or you need additional help after trying all of the steps here, then please share them us by submitting a support ticket.
Table of Contents (use🔺to return)
1. Ensure that your PC meets the minimum requirements to play theHunter: Call of the Wild
MINIMUM:
Requires a 64-bit processor and operating system
OS: 64bit OS - Windows 7
Processor: Intel i3-4170
Memory: 4 GB RAM
Graphics: NVIDIA GTX 660 / ATI HD7870 - 1GB VRAM
Storage: 60 GB available space
RECOMMENDED:
Requires a 64-bit processor and operating system
OS: 64bit OS - Windows 10
Processor: Intel i7 quad-core
Memory: 8 GB RAM
Graphics: NVidia GTX 760 / R9 270x - 4GB VRAM
Storage: 60 GB available space
2. Verify integrity of your game files.
Via Steam open your game Library.

Right click on the game title and select "Properties"

Select the "LOCAL FILES" tab and click on "VERIFY INTEGRITY OF GAME FILES..."

Start a game session
3. Make sure your Dedicated Graphics Card is running the game
For Nvidia Graphics Cards
Open the Nvidia Control Panel. You can do this by right-clicking on the desktop

Select Manage 3D Settings under 3D Settings

Click on the "Program Settings" tab and select theHunterCotW_F.exe. If you can't find the game in your drop-down menu, then press "Add", locate the folder where the game is installed, and then choose "theHunterCotW_F.exe"

From the second option "Select the preferred graphics processor for this program", select High-performance Nvidia processor from the drop down list (you can see what the automatic option is listed as global setting).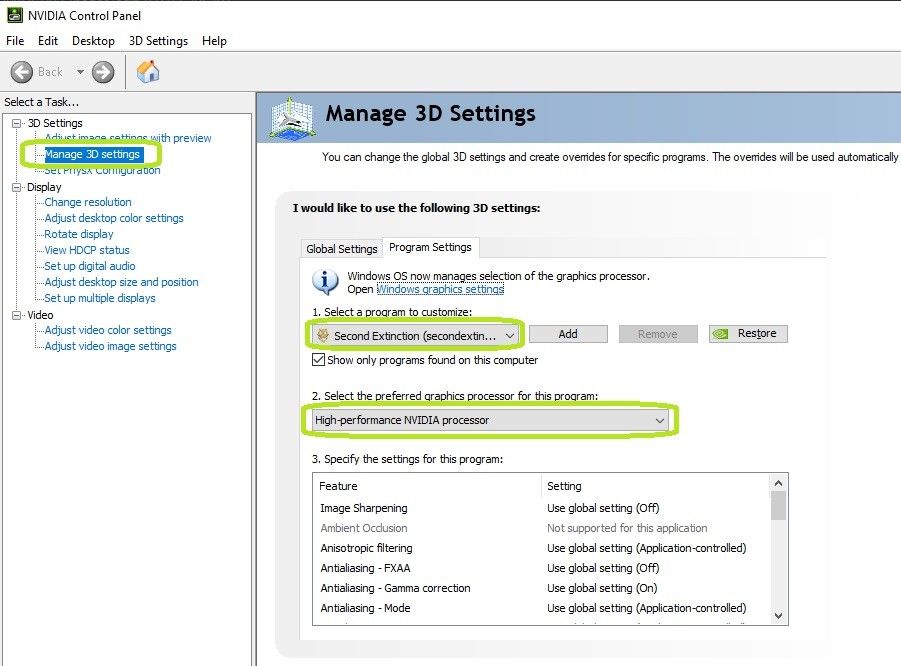 For AMD Graphics Card Users
Right click your desktop and open the AMD Radeon Software.

In Radeon Software, click on the Gear Icon and select Graphics from the sub-menu, then choose advanced.

Click on GPU Workload and select the desired setting (default is to set to Graphics). NOTE! In systems with more than one AMD Radeon™ GPU installed, GPU Workload setting will apply to all AMD Radeon™ GPUs

Click OK to restart Radeon software for the change to take effect.

When finished, you may close Radeon Software.
4. Check if your savegame has become corrupted
NOTE: you will also need to disable Steam backups during this process, or steam will keep trying to "restore" your savegame.
You can find a guide to access your savegame here. Simply rename the folder "Saves" to something else, for example, "Backup dd-mmm-yyyy" and see if your game will launch. If it does, your savegame is most likely corrupted and preventing your game from launching correctly. You will need to continue with your new game to keep playing theHunter: Call of the Wild, but you can try to patch in files from your old Save to try and keep as much of your progress as possible!
5. Disable Cloud Backups
Your Steam or EPIC Cloud Backups could be corrupted. You could try turning them off to see if that is causing your issue.
6. Try removing special characters from your Steam or EPIC username
If your steam username has special characters or characters that are not used within the English language, attempting to remove them may solve your problem. Please note: it's recommended to restart steam and the game before checking if this worked for you or not.
7. Update graphics card drivers to the latest version.
Check your graphics card software and make sure it's updated. Select NVIDIA GeForce Experience, or AMD Radeon Software. If you are using an older Graphics card, it's probably not supported.
Please note: If you are playing with a NVIDIA graphics card, then it's recommended to disable the setting "Image Sharpening". To do so, open the NVIDIA Control Panel → Click the Manage 3D Settings Tab → Global Settings → Find the setting "Image Sharpening" and turn it to Sharpening OFF.
Additionally, if your drivers are up-to-date and your still having the issue, you might try rolling your drivers back one stable version.
8. Fix Windows related Issues
Run the game as Administrator.

Check your Windows is fully up-to-date.

Make sure you have Microsoft Visual C++ Redistributable installed. If you don't, you can install it from here.

Some of your PC files may have become corrupt. Please attempt to use the System File Checker to see if it can fix them. A full support article from Microsoft can be found here.

If using multiple monitors, try setting the game to run on your default monitor and in landscape mode.

Change your screen resolution to one supporting a 16:9 or 21:9 aspect ratio.

Confirm that your in-game screen resolution and windows screen resolution are matching.
9. Disable programs that may interfere with theHunter: Call of the Wild
Search for, and disable/troubleshoot programs that could potentially interfere with Steam. Most notably:
Turn off Steam overlay
Disable background programs for recording and screen capturing
Temporarily disable your antivirus software
10. Try running the game in Windowed, borderless, or fullscreen mode through launch arguments.
Steam:
Navigate to your library.

Right click on the game title and select "Properties"

Click on "SET LAUNCH OPTIONS", and enter one of the following:

/windowed
/borderless
/fullscreen
EPIC:
Go to your EPIC settings.
Scroll all the way down to "MANAGE GAMES".
Choose COTW and check the box for "additional command line arguments".
Set the launch options to one of the following:

-windowed
-borderless
-fullscreen
11. Try changing your "Screen Space Reflections to 'On'
If you were able to successfully load the game, then open settings → graphics → set your Screen Space Reflections to 'On'. You may also try adjusting other graphics settings.
To do it outside the game, go to
C:\Users\%user%\Documents\Avalanche Studios\COTW\Saves\settings\%SteamUserID%>settings.json
then set "GraphicsSSReflection": 0 to 1.
You can also edit other graphical settings from this file such as game resolution, which could also potentially solve your issue.
12. Update your Audio drivers and disable anything modifying your audio
The first thing to do would be to update your Realtek drivers (or other audio drivers).

If you are using a headset or external speakers, then try unplugging them temporarily. You can also attempt to uninstall and then reinstall your Realtek drivers.

Make sure there are no programs taking "exclusive control" of your audio device.

13. Try disabling USB devices to see if any are interfering with the game.
In rare cases, some USB devices might interfere with theHunter: Call of the Wild. It's recommended to try unplugging your USB devices that may interfere, such as controllers, audio devices, etc., and check if it allows theHunter: Call of the Wild to begin working.
14.Enable PS4 controller compatibility
If you're experiencing crashed while using a first generation PS4 controller, you'll need to enable the compatibility feature in Steam >> Settings >> Controller >> General Controller Settings.
15. Whitelist the game in your Security Suite
If you're having issues with the game running, it's possible that your firewall or security suite is blocking it from running. Try adding an exception to the application "theHunterCotW_F".
If you are using Windows Defender, you may refer to this article by Microsoft. Or, you can check out our article for lost data which also goes over this.
You may also need to disable ransomware protection and/or controlled folder access. This article will illustrate how to access those settings for Windows Defender.
16. Fix error messages "Error D3D Device Lost"
Navigate to Documents\Avalanche Studios\CotW\Saves\settings\(SteamID)\
Edit the file "settings.json" with a text editor, then make the following edit:

Search for the line that says "DisplayFullscreen": 1 and change it to "DisplayFullscreen": 0

Search for the line that says "DisplayWidth: ". This needs to match your screen resolution's width. For example: "DisplayWidth": 1920, is for a user with a 1920x1080p display.

Search for the line that says " DisplayHeight:". This needs to match your screen resolution's width. For example: "DisplayHeight": 1080, is for a user with a 1920x1080p display.

Save then close the file.

Change the launch options from your Steam library.

Right click on the game and select "Properties"

Click on "SET LAUNCH OPTIONS…"

In the box type: /borderless

Click "OK" then "CLOSE"

Try launching the game.
17. Reinstall the game and/or Steam/EPIC
If none of the above steps helped fix your issue with the game launching, then please try reinstalling your game, or either the Steam or EPIC launcher.
18. Still having trouble? Contact support!
If none of the above solutions helped, you may wish to check your Windows installation. If your issue still persists, then please contact our support. Before doing so, please prepare the necessary files for us to assist you. We will need your DxDiag, MSInfo, and savegame files. After doing so, click here to submit a new request.